Introduction
We are happy to announce the launch of the Referral Program, starting from 1st April 2023.
As a Wassenger customer, you are entitled to refer as many new customers as you like to subscribe to one of our service plans.
All you need to do is share your personal Referral link and anyone that uses your link to sign up will be automatically eligible to get a commission when they subscribe to a paid plan.
You will receive the 30% of the value of the referred user first subscription paid plan for the first 3 consecutive months, as long as the subscription remains active. The commissions will be available to pay out after 30 days from the payment date.
Example: a referred user pays for a subscription on day March 4th, the Referrer will be eligible to cash out the 30% commission of the net paid amount after April 4th.
Your commission can be cashed out either in credits that you can get in the form a of discount on your paid subscriptions or in money that you can withdraw through PayPal once you have accumulated a minimum of $50 / €50.
Payouts via PayPal will be sent exclusively in EUR currency based on the market conversion rate at payment time.
A Referral Program dedicated section for monitoring and managing all referrals and profit is available in the Setting section > Referral Program section.
How to Get Started
Go to your account page and click on "Referral Program" and obtain your Wassenger referral link URL.
The referral link looks like:
https://wassenger.com/?ref=7c6ag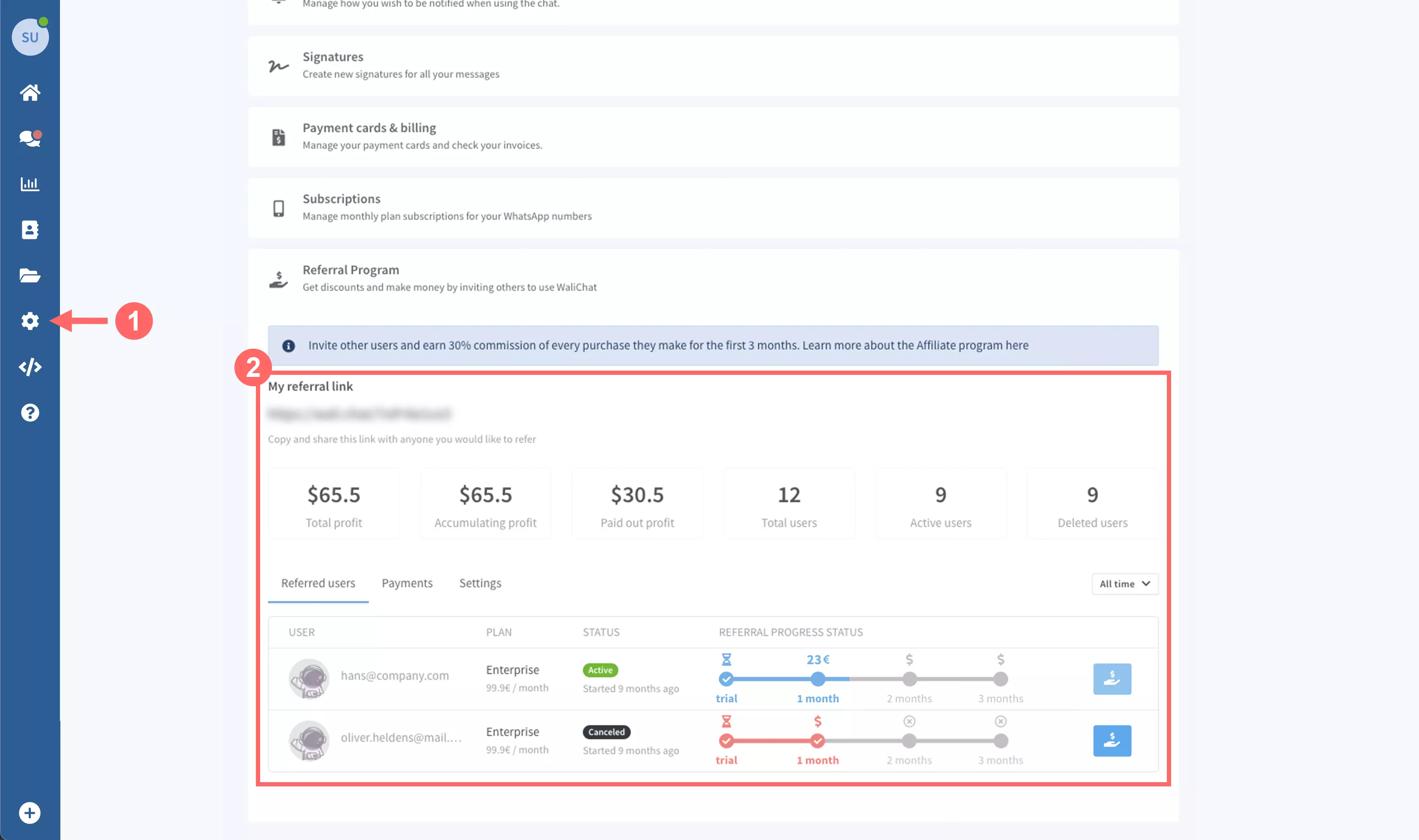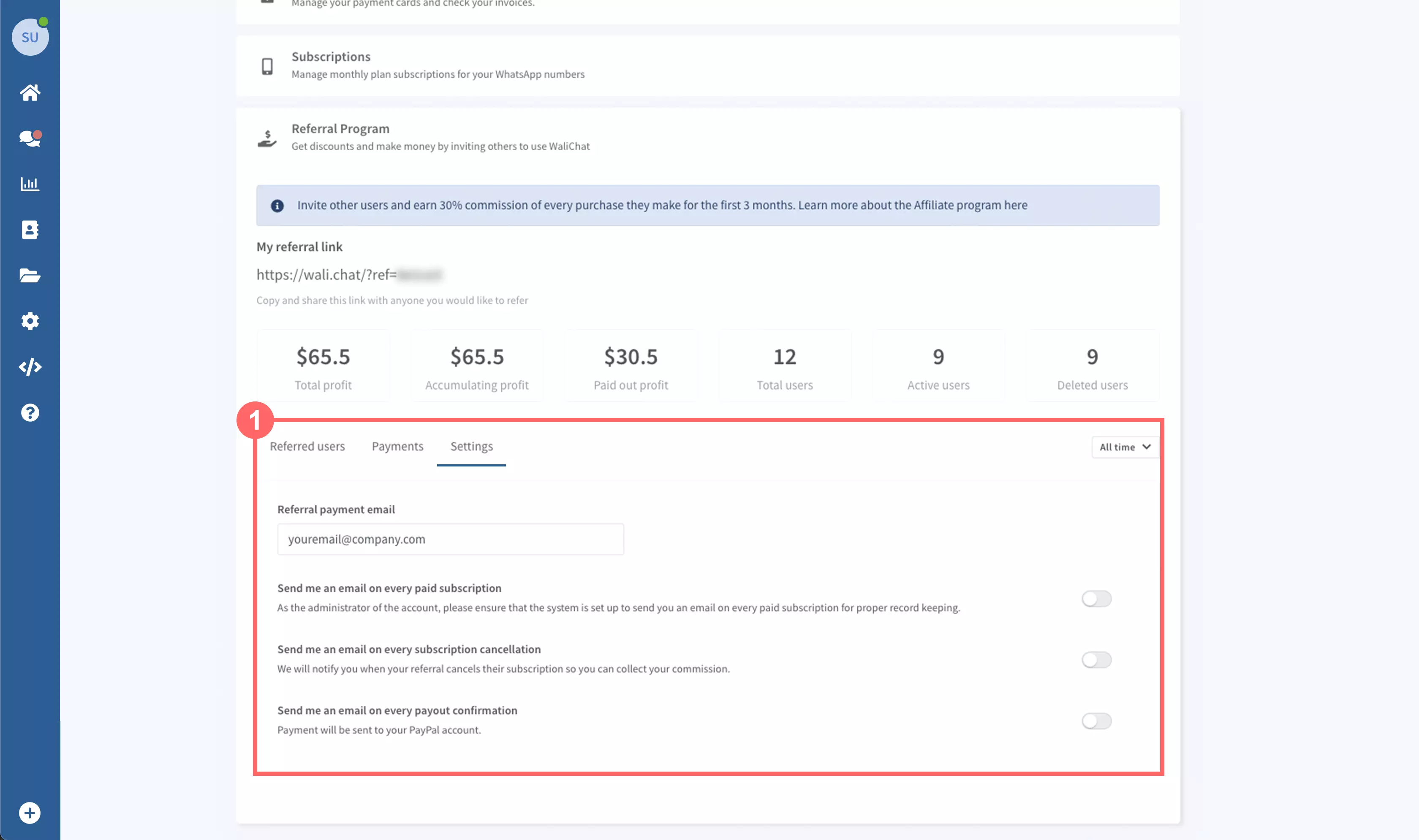 Ensure your share the full URL in order to track any user that sign ups using your Referral code.
That's it! Now you can get paid every month to your registered PayPal email address or use the commissions as credit that gives you a discount in your existing subscriptions in Wassenger.
Requirements & Tips on Ensuring Successful Referrals
Ensure your Referral signs up within 60 days from clicking on the unique URL link that you have shared with them.

Your referral needs to have an active paid subscription within the first 60 days after registering for Wassenger using your link.

The subscription's payment will need to be made on the same device & browser that the registration happened.

The Referral's browser cookies must not be cleared after registering for Wassenger.

By participating in the Referral Program and sharing your link with anyone, you agree the Referral Program Service Terms & Conditions.
Questions & Answers
I have recommended your platform in the past but I have never received any benefits for it.
We cannot thank you enough for promoting our services, nonetheless, we cannot apply for the Referral Program retroactively. Now that we do have a properly structured Referral Program, you can keep recommending Wassenger to begin getting paid for doing so 🙂
The Referral Program was launched on 1st April 2023. We cannot offer commissions retroactively.
Can I recommend a person or company that had already been a Wassenger customer but that has cancelled their subscription?
We're very sorry, but former customers are not eligible for participating as Referees and, therefore, recommending them would not generate commissions for the Referrer.
Referees must have a new email address and a new WhatsApp number that was not used before in Wassenger.
What happens if the Referee changes plan during the first 3 months in which I get my commissions?
If the Referee upgrades or downgrades their plan during the first 3 months in which the Referrer accrues their commission, the Refererr will get 30% of the base plan price regardless of what is the actual amount of their invoice (which may vary depending on when the made the plan change).
For example: the Referee starts their subscription with a Business plan and the Referrer gets their 30% commission on the Business plan ($21). On day 16 of their first billing cycle, the Referee upgrades the plan to Enterprise so that the invoice corresponding to the second month of subscription shows that their current plan is Enterprise. On the second month, the Referrer will get 30% of the Enterprise plan ($30).
Can I receive my payout in a currency other than Euros?
Unfortunately, payouts can be made exclusively in Euros (EUR) at this time.
If the person I referred changes WhatsApp number, do I still get my commissions?
Provided that it's a number that has never been used on Wassenger, of course, they can change their WhatsApp numbers any number of times is needed without canceling the subscription and you can benefit.
If I refer a customer to Wassenger, the sign up immediately but they don't subscribe to a paid plan until a few months later, can I still get commissions?
There is a maximum of 60 days from the day the Referee signs up until their first payment in order for the Referrer to receive commissions of the purchased plan.
What's the duration of the Referral link tracking?
Any user that clicks on your link but does not sign up immediately can be linked as your Referee within 60 days. If the user does not sign up within 60 days, the Referee will not be eligible. How long does it take to receive a payout?
If you are eligible to cash out, you have more than $50 / €50 consolidated profit, and you have a PayPal account, you can request a payout and we will process it within 7 business days.
In case we find some irregularities in the application, we may reach out for further clarification. We reserve the right to reject the application in case we find that it's in breach of our Referral Program Terms & Conditions.
If the person or company I refer wants to buy several plans, do I get commissions for all of them?
The Referrer gets commissions only for the first subscription paid by the Referee, so if the Referee subscribes to one or multiple plans the commissions for the Referrer don't change.
But we're still very grateful to you, so feel free to get in touch with us to let us know if this situation occurs so that we can evaluate it and give you an extra reward for your commitment 🙂
Can I use my commissions partially in credits and partially in money?
Unfortunately, it is not possible to split the commission.
You can decide once per cash out how you would like to obtain the commissions profit: via Paypal or converted to credit in your account (as a form of discount in future payments).
Can I receive an email notification whenever there is a new Referee subscription linked to my account?
Sure thing! You can activate the email notification in the Referral Program settings and we will email you every we have good news for you 🙂